So, you just moved into your new home with a big beautiful yard and lawn. How to care for the law can be daunting, but with the right equipment and tools, you will be able to maintain your new yard in no time. It can be confusing when deciding if you should get an electric lawn mower or a gas lawnmower. Gas lawn mowers are very loud and can be difficult to fix and maintain. Gas lawn mowers need gas to operate the machine and depending on gas prices, the cost can vary. These lawnmowers also need spark plugs changed, fuel filters changed, oil and gas changes. If you run out of gas, you have to leave your home to get some gas and then start up again. Not to mention, these lawnmowers can be very loud compared to electric mowers. They are heavier as they have more necessary things to run the mower. Gas mowers can also emit carbon monoxide and dioxide into the environment which is very harmful. This is a great option if you do not mind maintaining the lawn mower. If you have a very large yard, this is a great option as an electric mower may need to be changed frequently.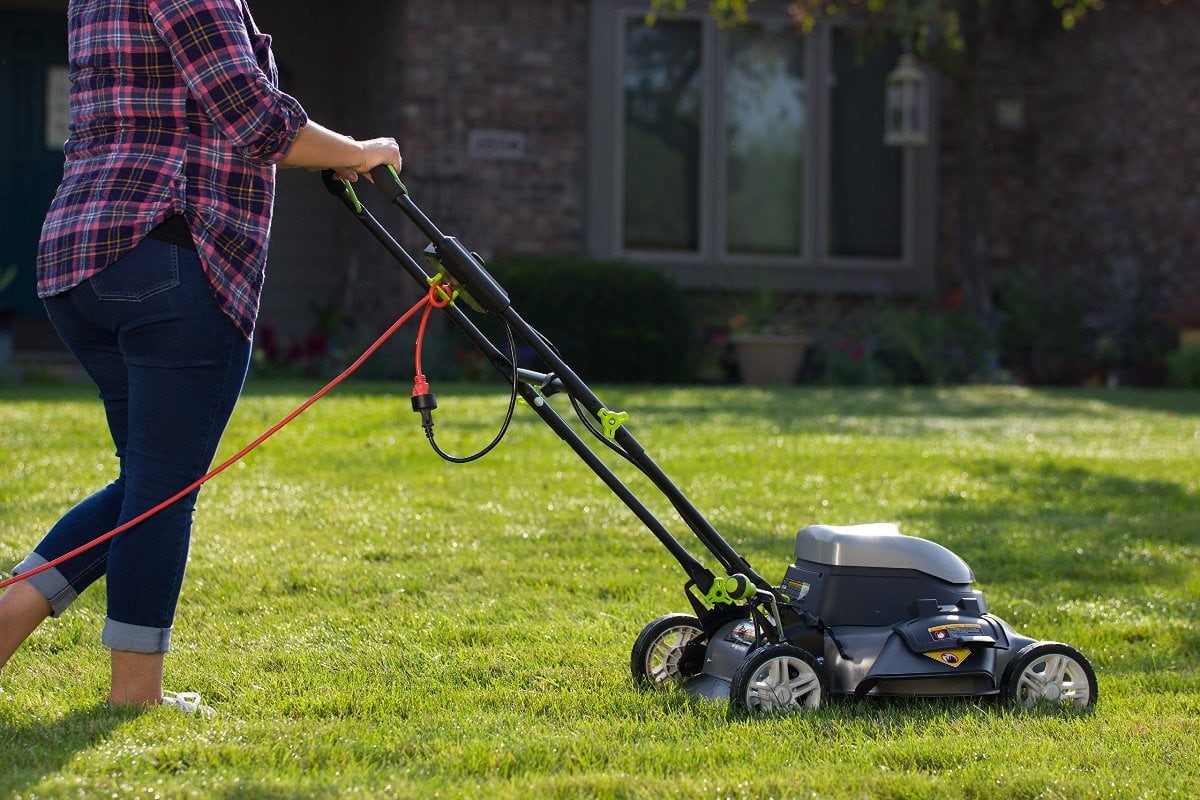 Electric mowers are environmentally friendly and come in two varieties to include corded and cordless. Corded electric lawn mowers you plug into an electrical outlet and can mow as far as the cord will take you. The downside to corded electric lawn mowers is the potential of running over the cord when you are mowing the lawn. This would be a great option if you live in the city and have a small patch of grass to maintain.
However, for a larger area, this may not be the best option. The cordless electric lawn mower is powered by a rechargeable battery. There are great benefits that come with using an electric mower such as no need to change the spark plus, no fuel filter change, no oil change, no gasoline spilling all over the place, better for the environment. The downside of a cordless electric mower is it limits how far the lawnmower will go. As the electric mower is powered by a battery, the battery will eventually need to be recharged.
The electric cordless mower is perfect for a yard size of 1/4 -1/2 acre lot. The lithium battery that comes with most machines is a 40v with an average run time of 6 hours. This is a pretty good amount of time however the battery does take about 4.5 to 5 hours to fully charge which can be time-consuming if you need to get the yard cleaned up in a short amount of time. Some downsides to the electric mower are they may not handle thicker grass, battery-operated may not offer a lot of mowing time, they do not require regular engine maintenance.
The cost comparison between the two is actually quite impressive. While the electric mowers can be a little more costly upfront especially if you would like to add a couple of extra lithium batteries to have as spares, it makes up for the amount of gas you will need to purchase over the years for your gas lawn mower. The gas lawn mowers like Cub Cadet mowers, although a little less expensive upfront, do require regular maintenance and this is when the cost needs to be outweighed by the electric mower. The gas mower needs oil and fuel filter replacements, oil changes, spark plug changes as the mower gets older and has more use, while the electric mower requires little maintenance. If you're buying a home, it is important to have a clear picture of the type of mower you want and if you want to be hung up with doing regular maintenance on a lawnmower or little maintenance with the electric mower.